Hope Tech Global was founded upon 5 core values which we believe represent the very heart and vision of our company. It precedes everything we do. Every employee is expected to adhere to these values whilst doing everything to promote them within the company.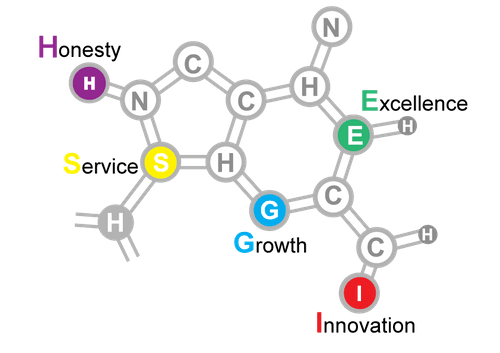 At HTG, we have an uncompromising standard of honesty in all that we do. We are committed to upholding this value even if it results into a financial setback. We believe that this value will form the basis for our growth, success and achievements.
Outstanding customer service is the foundation upon which we build our future. Our long term success depends upon providing outstanding services not only to customers, but also our partners, suppliers and team members.
At HTG, we are committed to excellence in all that we do. We pay attention to the details and deliver results that meet and exceed our customer expectations. We continuously strive to improve the company with it's procedures, environment and the impact it makes in the world.
At HTG, we strive to deliver growth to every client, the company and each team member, positively impacting those within our circle of influence.
At HTG, we will not settle for the status quo. Instead, we will pursue a culture of innovation. We are committed to finding new solutions, products, systems and markets for every one of our products and services. We believe that innovation will lead to a fun and creative work atmosphere where every employee is able to reach their potential.
HTG is a solutions-based, product-oriented company providing electronic product design and China manufacturing to the organizations that are focused on helping people in the developing world. We strive to provide the most innovative, highest-quality and affordable electronic design and manufacturing services to our customers through exceptional, personal, and professional service. We always strive to "go above and beyond" the call of duty in order to ensure that our customers are always completely satisfied with our service.
Are you interested in partnering with the Hope Tech Global team?